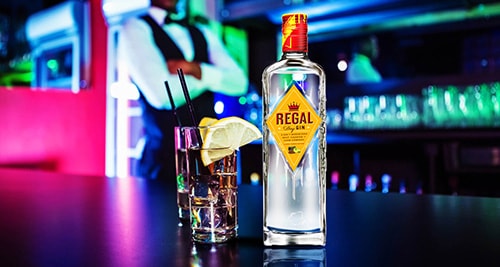 Regal
Started in 1983, Regal Dry Gin is a clean, crisp and delightful dry gin with an array of indigenous botanicals and grapefruit peel nestled in a classic transparent bottle. Regal delivers over 35 years of distilling excellence where the subtle undertones and rich blend of juniper, caraway and lime rendezvous to create a distinct breed of gin that is best enjoyed in good company for turn ups and shine!
Regal Dry Gin is treasured for myriad reasons including:
A dry, crisp and flavored gin with youthful and invigorating properties. Vast suitability as a standalone drink or for excellent cocktails and other combinations. Excellent combination with native roots and earthy herbs for therapeutic benefits. Youthfulness and liveliness that makes it worthy of its "turn up and shine" reputation.
Regal Dry Gin is cladded in an attractive, all-visible transparent 750ml bottle that is capped by a unique yellow crown infused with local Ankara motifs. Its carefully detailed bottle embossed with Regal at either side is attired by a beautiful diamond-cut label at its centre with rich yellow and red colours. Regal's premium taste arises from its choicest ingredients, pure waters and unique distillation process that delivers a revitalizing 43 percent alcohol by volume.
Regal Dry Gin is also available in:
Regal Dry Gin 200mL PET bottle
Regal Dry Gin 120ml PET bottle
Regal Dry Gin 30ml sachet Laminate